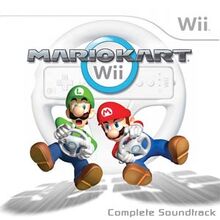 Mario Kart Wii - Complete Soundtrack is a soundtrack for Mario Kart Wii, released by VideoGameScrapBook.com in early 2008.
Song List
Edit
Note: songs composed by Asuka Ohta and Ryo Nagamatsu except for the ones that we're composed by other composers from Nintendo and other companys
Wii Tracks
Edit
Title (S Tanaka*, A Ohta)
Mario Circuit / Luigi Circuit (A Ohta)
Moo Moo Meadows (R Nagamatsu)
Mushroom Gorge (R Nagamatsu)
Toad's Factory (R Nagamatsu)
Coconut Mall (A Ohta)
DK's Snowboard Cross (A Ohta)
Wario's Gold Mine (A Ohta)
Daisy Circuit (A Ohta)
Koopa Cape (A Ohta)
Maple Treeway (A Ohta)
Grumble Volcano (A Ohta)
Dry Dry Ruins (R Nagamatsu)
Moonview Highway (R Nagamatsu)
Bowser's Castle (K Kondo*, A Ohta)
Rainbow Road (S Tanaka*, A Ohta)
Trophy Presentations (K Kondo*, K Nagata*, A Ohta)
Credits Pt.1 (A Ohta)
Credits Pt.2 (A Ohta)
Block Plaza (A Ohta)
\\\\\\\\\\\\\\\\\\\\\\\\\
Composers: Koji Kondo, Kenta Nagata, Shinobu Tanaka, Asuka Ohta, Ryo Nagamatsu
All the song credits for all the songs had mistakes with the song credits credited all the game composers in the song credits on almost all the songs except for some of the retro courses which we're composed by different composers from Nintendo and other companys.
Course Themes from Super Mario Kart, Mario Kart 64, Mario Kart: Super Circuit, Mario Kart: Double Dash! and Mario Kart DS was featured on this soundtrack, but was not featured on the game's platinum soundtrack which was released in December 2011.
Community content is available under
CC-BY-SA
unless otherwise noted.