Opening Number is a song from Rare Replay, which was written by composer Robin Beanland, designer Chris Allcock and Paul Collins.
There was, of course, another standout component of the Rare Replay musical machine as yet unmentioned. Lead Designer Paul Collins had long been championing the idea of musical numbers, initially pitching them as a series of acts and interludes to introduce the characters and settings within each game and Snapshot playlist. But the intricacies of this plan soon saw it consigned to the back burner – only to regroup and return as an all-in-one number featuring the full cast, a musical force of nature that would settle for nothing less than kicking off the entire collection.
Inspiration for this barnstormer came from all manner of sources, some perhaps more predictable than others: not just The Muppet Show's classic gag-packed intro sequence and Disney's House of Mouse with all the characters thrown together under one roof, but games with comparable visual styles such as Battleblock Theater, and even (minus the deviance) a few of South Park's colourful musical numbers. The end goal was to convey a kind of infectious exuberance – but also a sense that everything was hurtling along almost uncontrollably, that it could all go wrong at any moment and you almost wished it would just so that you could be around to witness the hilarity.
Robin explains how this soon-to-be fan favourite Opening Number came to life, and how other talent from both inside and outside the walls of Rare was brought on board:
"For quite a while I'd been asking for the lyrics first so that I could compose something in the right vein, but everyone was so busy that I eventually just bit the bullet and went ahead with the melody. Even when it was done, the only line I had in place was 'It's a Rare Replay', so that's how it was handed back to Paul and one of our writers Chris Allcock who did a fantastic job with the rest of the lyrics.
Song Credits
Edit
Original Version
Edit
Composed and Arranged by: Robin Beanland
Written by: Chris Allcock, Paul Collins
Original Idea by: Paul Collins
Published by: Rare
Instrumental Version
Edit
Composed and Arranged by: Robin Beanland
Published by: Rare
Musicians
Edit
Original Version
Edit
Vocals: Rare All-Star Choir, Chris Marlow, Chris Allcock, Paul Collins
Flumpet: Robin Beanland
Instrumental Version
Edit
according to Chris Allcock, they did 2 early versions of the Opening Number that they wrote, before the final version.
The early versions of the opening number are, I Want Song and The Greatest Hero Song.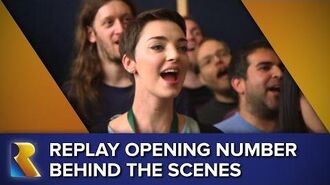 Community content is available under
CC-BY-SA
unless otherwise noted.